Google Drive is an online tool developed by Google which enables you to store and synchronie documents, images, videos and other types of media with different computer systems and users. It is similar to Dropbox, however, Google Drive comes with its own set of office tools, which means you can edit Word documents, spreadsheets, presentations, drawings, forms etc. all from the website, whether you are using a phone, a tablet, or a computer. Google Drive can revolutionise your business, as it provides a way of collaborating with team members on documents with no hassle.
Once you've set up your Google Drive accounts, it may seem a little daunting. This guide is designed to help you through the basics, and to help you get to grips with Google Drive.
Creating Folders and Adding Files
It is good practice to organise your files into folders, to ensure you don't get confused when trying to find a document. Here's how you can create a folder, and then move a file (or files) into it:
First, select the red 'NEW' button on the left of the screen. Then, select 'Folder'.
Choose a name for your folder. Give the folder an appropriate name to make it easier when trying to find your files. In this case, we will simply call the folder 'My Folder'.
Your new folder will appear in the main screen of Google Drive. You can double click on the folder to open it, just like you would do with a folder on your computer. To get back to the main screen, simply press the Back button on your internet browser.
Now you have created a folder, it's time to look at how to add files. I will show you how you can upload a Word document. The same process applies for any type of file you would like to upload. To begin, select the 'New' button again, and this time, choose 'File upload'.
Browse for and select the document or file you want to upload.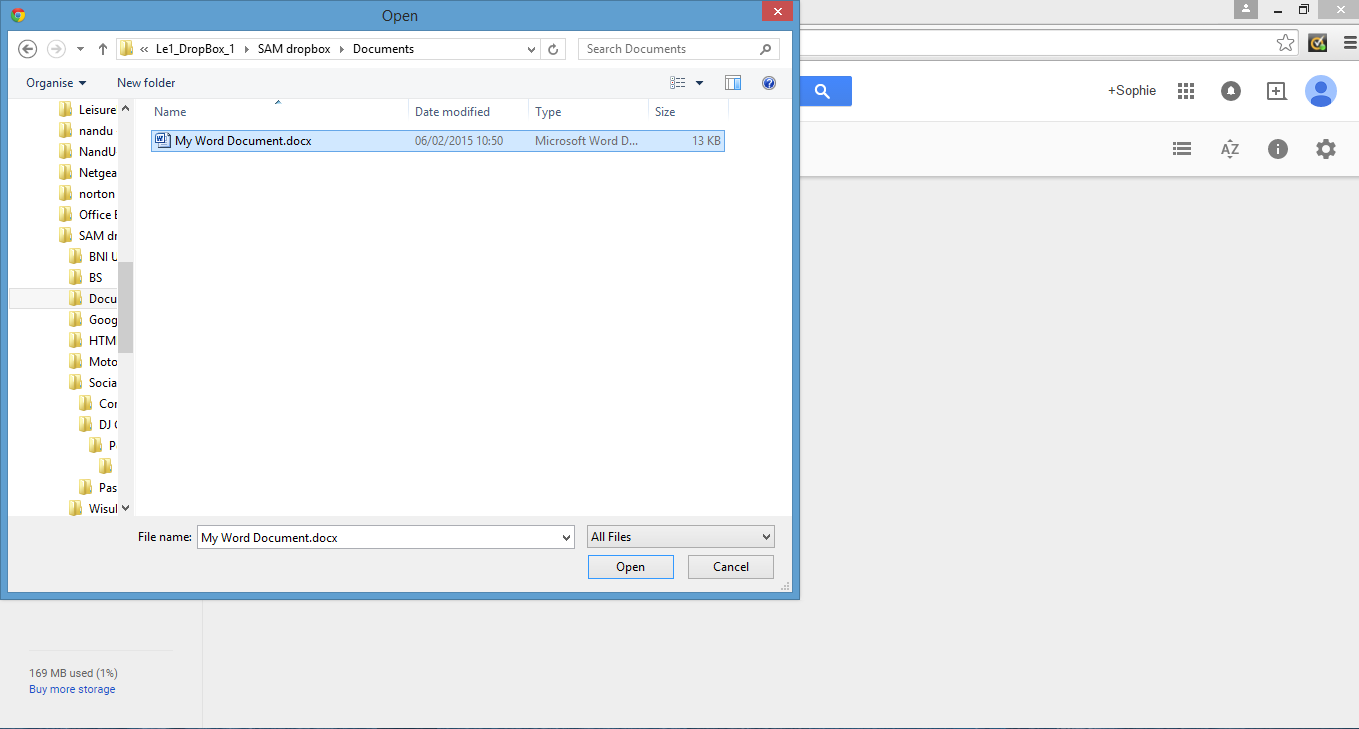 A progress bar should appear on your screen, indicating how much of the file has uploaded, and how much is left to upload. Once the upload has completed, the file will appear in the main screen.
You can now drag and drop the file into your folder, just like you would on a computer.
That's it for uploading and organising your files, but how do you go about editing them? Here's how:
Editing Files
Google Drive comes with a range of office tools, which allow you to edit documents, spreadsheets, forms, and other common office files. You can also share these files with other people, which allows you to edit files in real-time with other people, which makes Google Drive excellent for collaboration. I will show you the basics of editing a Word document and then how to share it with another user, the process again is the same for other office files.
Once you have uploaded your file, double click it to open up the preview screen. This screen allows you to view, print, and share your document, but will not allow you to edit. To edit, click the 'Open' button.
A new browser tab/window should open, and you will be greeted by the editor. Here, you can make changes to your document just like you would in Microsoft Word for example. Any changes you make to the document are auto-saved, meaning you don't have to save it manually. To share your document with other people, click the 'Share' button at the top right of the display.
You have multiple options for sharing. You can enter names or email addresses into the box, and then select what permissions you want those users to have (they can edit, comment, or view). This is good if you want specific users to have the ability to edit, and others to only be able to view the document for example. Or, you can get a shareable link, which you can then send to people. Everyone who receives this link will have the same permissions which you can assign however.
The document will appear in the Drive of whoever you choose to share the file with, and any changes they make to the document will appear in the document to everyone. You can edit the same document at the same time, meaning multiple people can work on a document together instantly.
Adjusting File Properties
Renaming, copying, and deleting files is simple. Here's how:
Right click on the file you want to make changes to, and then select the option you require. In this case, I will 'Rename' my document.
2. A screen will pop up asking what you want to rename the file to. Enter the new name and click OK.
Your document will rename successfully. The name will also change for anyone who the document is shared with. You can also 'Make a copy' of a file, this is useful for if you want to make changes to a document without editing the main document which is shared with other people. Deleting a document is also possible from the right click menu, and this will delete the file from whoever has access to the file. You can retrieve deleted files by opening the 'Trash' folder:
Integrating Google Drive with your computer
One of the best features about Dropbox is its ability to integrate with your computer system, enabling you to access your files without using the website interface. One of the benefits of this is that you don't have to use the built-in office suite that comes with Drive – however, you cannot collaborate in real-time without using the online Google tools. Windows/Mac integration is possible with Google Drive, and all you have to do is install the free software:
Select the Cog icon from the top right of the screen, and choose 'Download Drive'
You will be transported to a website containing a download link for Google Drive. Select the appropriate links to download Drive for your system, and download the installer. Once downloaded, run the application and follow the setup guide to install the software, which will integrate with your computer and will link to your Drive account.
That's everything you need to know to start using Google Drive, and to begin revolutionising the way you work.